Aquario Neo SHRIMP Soil Compact

Neo Soil Compact Shrimp by AQUARIO is a special substrate for shrimp aquariums. Its focus is the support of shrimp viability, colouring as well as formation of the shell whilst keeping the high standards of a holistic nutrient supply for water plants. In addition, the beads are formed with very fine pores in their core which makes them act as a very own biological filter.
The soil consists of nutrient-rich soils of volcanic origin. It is beneficial for the growth of tropical aquatic plants and creates the perfect living conditions for shrimps. The soil contains humic acids originating from shrimp's natural habitats, which provide adult shrimp with an excellent water quality and increase the viability of baby shrimp.
In addition, Neo Soil Compact Shrimp is rich on microelements that strengthen the formation and texture of shrimp shell and have an important influence on the colouration.
Waterquality with Neo Soil Shrimp
Due to the special structural composition of the soil particles, which combines two layers of different natural soil types – brown soil inside and black soil outside – the soil has a lower weight and its own filtering effect. It adsorbs soilings and thus, keeping the water clean.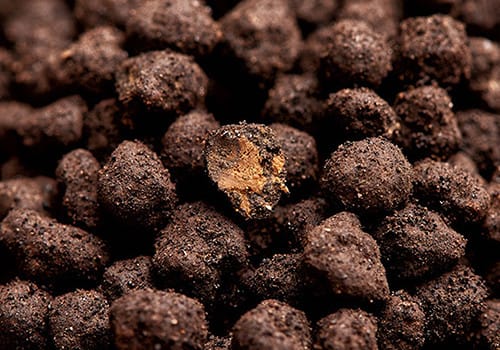 After already 7 days, this substrate creates a stable water quality in the aquarium.
| Day | NH3/NH4 [mg/l] | NO2 [mg/l] | NO3 [mg/l] |
| --- | --- | --- | --- |
| Orignal Water | 0 | 0 | 0 |
| After 7 days | 0,25 | 0 | 12,5 |
| After 14 days | 0 | 0 | 12,5 |
| After 21 days | 0 | 0 | 12,5 |
Next to the ability to lower the pH-value as well as the water hardness, which many soils provide and is surely not neglected with this soil, Neo Soil does have more features that make it unique. Other than most soils, the Neo Soil includes bacteria that are activated as soon as the soil makes contact with water. These beneficial bacteria in the soil play an important role in biological degradation processes in the aquarium by converting undesirable substances such as nitrite. Additionally, they limit the growth of harmful organisms abundant in the water. The soil already contains sufficient nutrients to allow the bacteria's quick and stable establishment in the tank. Since the bacteria also provide the plants with nutrients that are present in the soil, growth is accelerated and facilitated in the critical starting phase. Additionally, microscopically small pores in the beads cause an increase in surface area and, thus, the habitat for additional important bacteria. In combination with the adsorbing features of the two layers of soil, this effect makes Neo soil a biological filter itself.
Features
Substrate with a grain size of 3 mm
Particularly suitable for shrimp aquariums and shrimp breeding
Enriched with useful bacteria
Contains microelements and humic acids
Creates ideal conditions for shrimps (e.g. crystal red dwarf shrimps), tropical fish and water plants
Positive effect on colour formation and shell strength
Soil particles with many micropores for enhanced microbial colonisation
Slightly reduces the pH-value
Adsorbing effect on soilings for crystal clear water